Please enjoy these pictures of some of the many exciting events at Salem!
VISIT FROM THE FAITH FORMATION BAND – JANUARY 29, 2023
ANNUAL MEETING – JANUARY 29, 2023
2022 CHRISTMAS PROGRAM
BAPTISM OF LLEYN SOREN SCHWANDT
O.W.L.S. (OLDER WISER LUTHERANS AT SALEM) CHRISTMAS PARTY and FAITH FORMATION CHRISTMAS CAROLING ACTIVITY NIGHT
DONATION BY SHIRLEY PETERSON TO NEIGHBORSINC. FROM SALEM. PROCEEDS FROM THE 2022 ARTS & CRAFTS FAIR AND NOVEMBER FOOD DRIVE
RIVER HEIGHS CHORALE HOLIDAY CONCERT 2022
2022 GOSPEL MUSIC CONCERT FEATURING PASTOR SAM BUTLER
ADVENT FESTIVAL 2022
THANKSGIVING EVE PIE SOCIAL 2022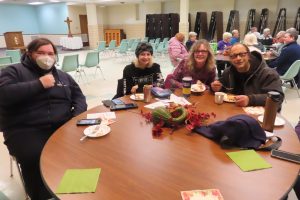 FAITH FORMATION ACTIVITY NIGHT – LOVE IN A ZIP LOCK BAG
Thank you to everyone who participated in the Love in a Zip Lock Bag event on Wednesday, November 16, 2022. Families from Salem and St. Stephen's packed "care bags" for persons experiencing homelessness.
HAILEY FRENCH CONFIRMATION – OCTOBER 30, 2022
Congratulations to Hailey French on being confirmed this year! We wish her a life filled with God's blessings in abundance!
ARTS & CRAFTS FAIR 2022
TRUNK OR TREAT 2022
Thank you to everyone who came out to the Trunk or Treat event on Saturday, October 29! We had over 200 kids come through the parking lot to get candy and treats!
SALEM SERVING OTHERS!
At Salem, we love serving others…check out these pictures of Salem members serving at Loaves & Fishes and Feed My Starving Children.
2022 SHOOL SUPPLY DRIVE FOR STUDENTS OF MORELAND ELEMENTARY
Thank you to everyone who donated so generously to the Back to School Supply Drive for students of Moreland Elementary! Shirley Peterson is pictured here dropping off the supplies and also a lovely thank you note from our liaison at Moreland:
NATIONAL NIGHT OUT – AUGUST 2, 2022
SUMMER OF SUSTAINABILITY AT SALEM – COMPOSTING DEMONSTRATION – JULY 9, 2022
Thank you to everyone who helped to organize the July 9 Summer of Sustainability event at Salem. An expert composter, Ernie Caltvedt, lead the conversation and demonstration on composting. Please use the link below for more information:
DAKOTA COUNTY'S COMPOSTING PROGRAM
---
VACATION BIBLE SCHOOL 2022 – "JERUSALEM MARKETPLACE"
Thank you to everyone who participated/volunteered at this year's VBS, "Jerusalem Marketplace". The kids had a great time and we look forward to another great adventure next year!
INSTALLATION SERVICE OF PASTOR AARON HOLMGREN
SUMMER OF SUSTAINIBILITY AT SALEM- TREE PLANTING/DEDICATION EVENT
SERVING AT LOAVES & FISHES